Upholstery Cleaning

Melbourne

If you need top-quality professional upholstery cleaning in Caroline Springs's Western or Northern suburbs, you need Elite Carpet Care. With Elite, you get…
Experienced upholstery cleaning technician
Dry steam technology for fast drying furniture
Fabric and Mattress furniture cleaning
High quality cleaning machine and solutions
Competitive pricing for all upholstery jobs
Experienced upholstery cleaning technician
Robert Leheny, owner of Elite Carpet Care has over 25 years experience in the industry. When you get Elite to clean your upholstery, you get the peace of mind in knowing that you're in capable hands. We the best cleaning solution with high quality upholstery cleaning equipment to ensure that you get the best possible results. You can call 0408 807 420 to speak directly to Robert about having your upholstery cleaned.
Upholstery stain removal services
Red wine stains, dirty shoes, tomato sauce, blood or pet stains… There are too many different things to list that can stain your upholstery and we're able to clean them all. If your furniture has just been stained, don't wait to book stain removal. That faster you act, the better the chances are of completely removing the stain so contact us now!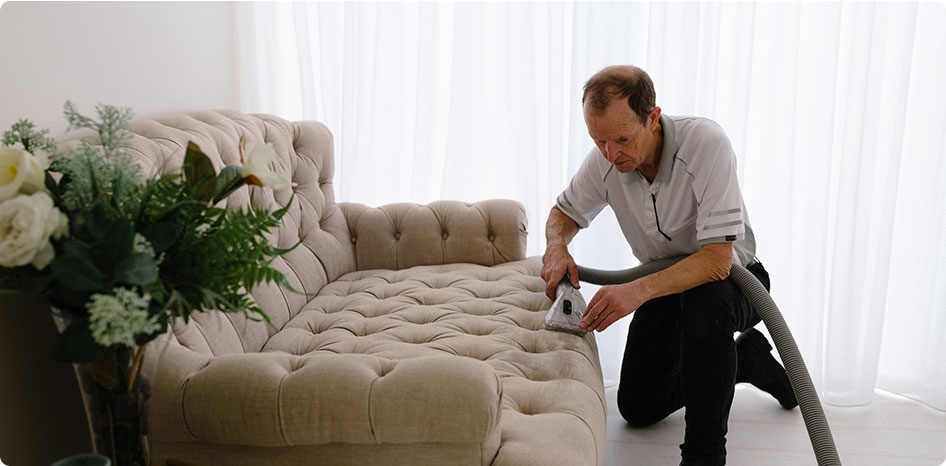 Steam cleaning for fabric upholstery
Our powerful truck mounted steam cleaning machine allows us to thoroughly clean fabric upholstery on sofa's and other furniture. Our carpet dry steam cleaning process means that your furniture will be dry shortly after cleaning. This allows for cleaning in even the coldest months and means that you don't have to wait to sit back in your favourite seat!
Office chair cleaning and deodorising
Many office workers spend more time sitting than they do sleeping! Just like mattress cleaning is important for a healthy mattress, it makes sense to look after your office seats and have them regularly cleaned. We can combine chair cleaning with office carpet cleaning to keep the whole office clean and odour-free.
Mattress stain removal & steam cleaning
We spend a huge amount of time on our mattresses so it makes sense to keep them clean. Our steam cleaning processes are effective at removing any type of mattress stain and will leave your mattress free of any unwanted odours.
Mattress odour and urine removal
Whether a pet is to blame or you have a wee one who's potty training, a urine stained mattress needs to be cleaned quickly. Our dry steam mattress cleaning process ensures that the urine is removed, odours are eliminated and your mattress is dry shortly after being cleaned.
Mattress or Rug cleaning Caroline Springs services areas
The areas in Western and Northern Caroline Springs that we offer our mattress or rug cleaning and stain removal services. If you need need mattress sanitising outside of the areas below, just get in contact with us to get a quote.
Read More – STAIN AND ODOUR SERVICE
Upholstery cleaning Caroline Springs service areas
We regularly clean and deodorise upholstery in Caroline Springs's Western and Northern suburbs. The map below shows our regular service areas. If you need to book an upholstery clean outside of the area in the map, please feel free to contact us for quick service.
Our steam carpet cleaning keeps Caroline Springs homes and businesses clean and healthy and can reach out to you anywhere around Caroline Springs, Deer Park, Hoppers Crossing, Melton, Point Cook, Tarneit, Werribee, Taylors Lakes, Keilor Downs, Kealba, Keilor East, Altona Meadows, Delahey, St Albans, Sunbury, Burnside heights, Keilor, Derrimut, Western suburbs, Northern suburbs, Caroline Springs & More. Just call 0408 807 420 to talk to the experts at Elite today.